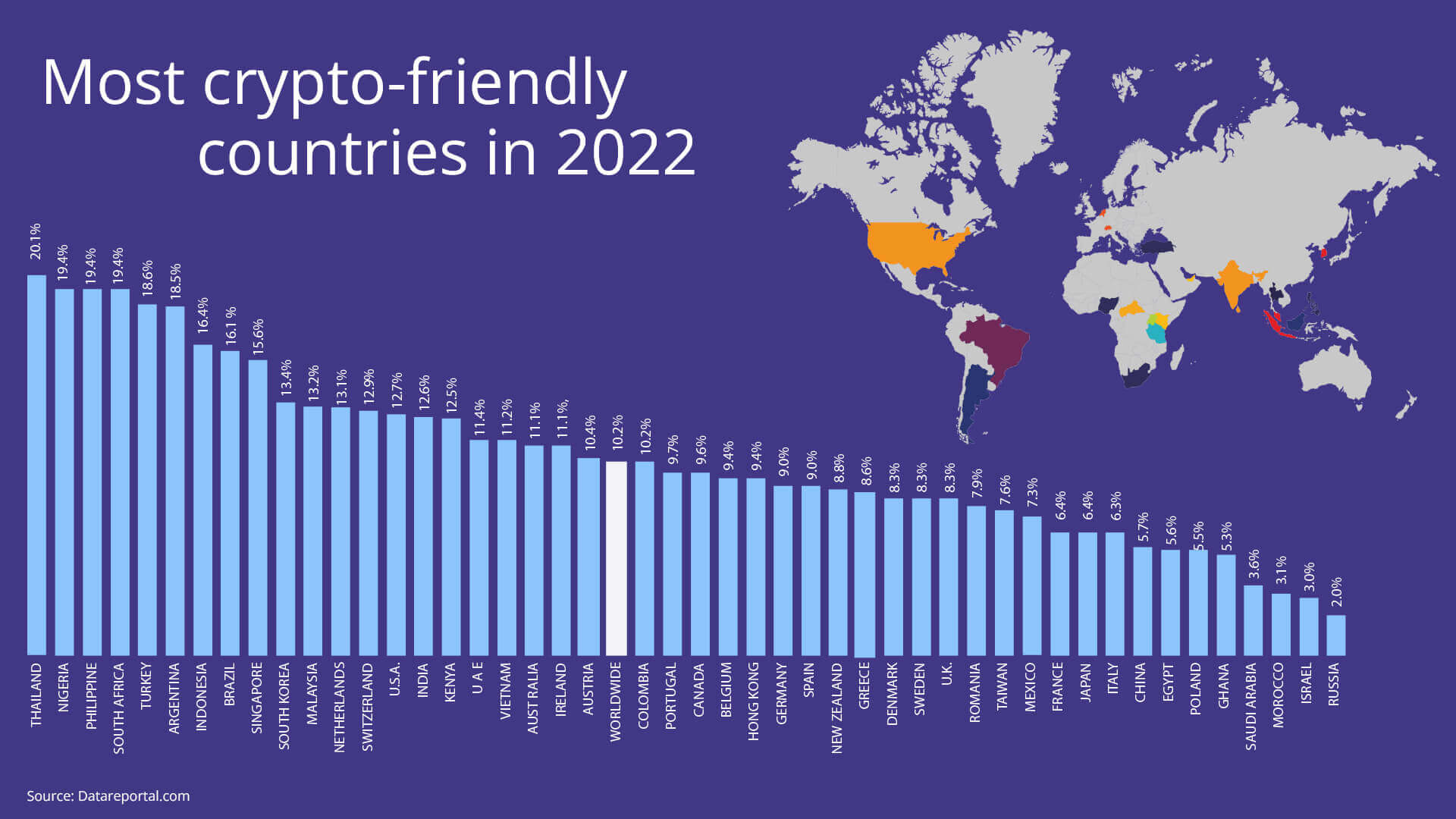 December 8, 2022
Going Global and Borderless with RiverPay Crypto Payment Gateway
As the UAE openly embraces the massive adoption of blockchain technology, individuals and businesses alike have taken this as an advantage. The UAE has been exerting efforts to achieve its goal of becoming the world's crypto hub & crypto payment gateways.
According to Chainalysis in October 2021, the UAE is currently the third-largest crypto market in the world. This makes the United Arab Emirates contribute to 7% of the global trading volume of cryptocurrency markets. More so, for this reason among many others, the UAE becomes a 'gold mine' for crypto-based companies.
Borderless and Cashless Payments
Aside from the UAE, there are several crypto-friendly countries in the world that started accepting cryptocurrencies as part of their lives.
We have El Salvador, which is famous for being the first country to make bitcoin a legal tender, and Switzerland which has favorable and attractive legal frameworks for crypto assets. Then, Singapore, which is one of the most tax-free crypto countries in the world right now, and of course, Germany, which has the German Banking Act that allows banks to custody crypto assets.
These countries are just among many others that embrace and recognize cryptocurrencies' potential. In fact, aside from these countries, new game players are surfacing—crypto emerging markets like Africa, Vietnam, Ukraine, India, Pakistan, Brazil, Thailand, and the Philippines.
RiverPay, Your Gateway To Decentralization
Furthermore, RiverPay, a Dubai-based crypto payment gateway provider developed by Blockchain Commodities, is also partaking in this feat. As a crypto payment gateway provider, RiverPay aims to improve borderless and cashless payments globally—allowing retailers and consumers to use cryptocurrencies in their daily transactions.
RiverPay goes beyond borders to reach international markets and assist them in becoming fully ready to accept digital assets. As it is known, all countries are competing to be a crypto hub, but only the ready businesses can benefit from this.
For this reason, it is important to work with reliable and credible blockchain development companies or crypto payment gateways like RiverPay to achieve this goal.
As an emerging leader in the crypto payment sector, RiverPay offers a fast, secure, and smooth solution to integrating crypto payments in either your physical or online store.
RiverPay provides various gateways which businesses can use to start accepting crypto payments (Plugins, APK, API). It can be used in online shops, physical stores, and even on the merchant's mobile phone.
With RiverPay crypto payment integration, businesses are assured to have:
High-Spending Customer Base
One System For Different Crypto Wallets
No Setup Costs
Lowest Fees On The Market
No Chargeback
Zero Risk Of Fraud
Interested? To start your journey with RiverPay, read how you can create a Business Account in RiverPay .