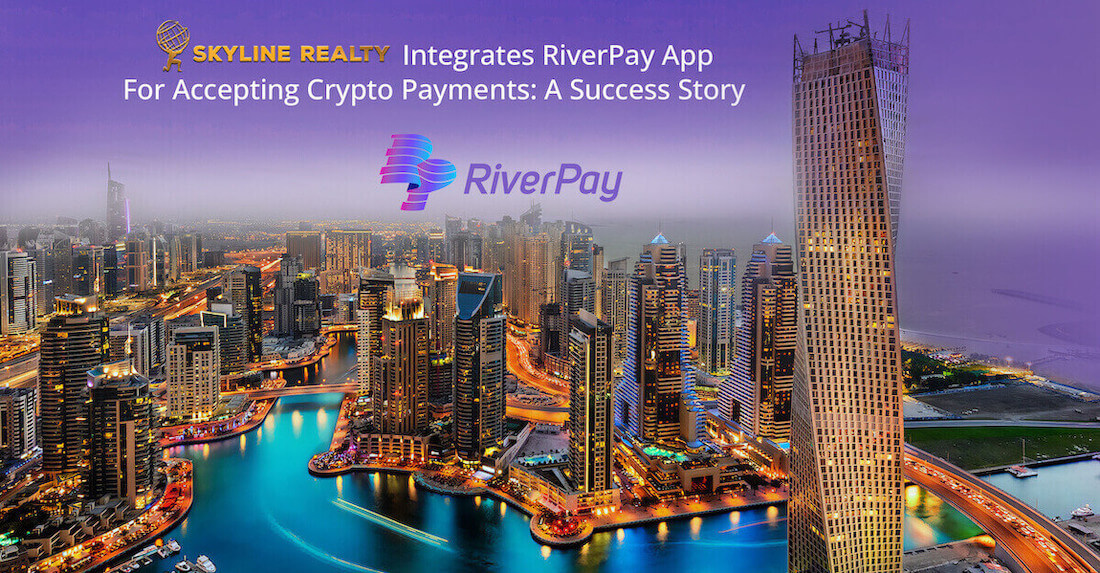 January 27, 2023
Skyline Realty Integrates RiverPay App for Accepting Crypto Payments: A Success Story
RiverPay proves to be paving its way to being the most used crypto payment gateway for accepting crypto payments in the UAE, as it continually expands. More companies are seeing the unique selling points of Riverpay, and among them is Skyline Realty.
Skyline Realty is an elite real estate agency providing property management to property owners all over the UAE. With Skyline Realty's trustworthy and reliable team, they customizable services and services to property finders. Moreover, they provide a plethora of properties, ranging from standard to luxury apartments located in convenient and desirable locations.
Real Estate and Crypto Industry in Dubai
Over the past years, Dubai has openly expressed its delight in the constant growth of the real estate industry. In relation, the city has also panned out its plans of exercising principles, to adopt blockchain, metaverse, and cryptocurrency in the future.
With this, the two industries' future is bright. Also, considering the unwavering desire of people for both luxury apartments and cryptocurrencies, it is not surprising to see the city's support and faith in the said industries.
Furthermore, as a team who values luxury clients and provides secure crypto payments, RiverPay is always ready to accommodate merchants who want to have access to both.
RiverPay App for Accepting Crypto Payments
RiverPay and Skyline's partnership covers the latter's integration of the RiverPay Mobile Application. Skyline Realty chose our mobile gateway—RiverPay App for accepting crypto payments. With this, they will be able to start accepting crypto payments even without using POS machines, cards, or web plug-ins.
Even though RiverPay also offers the same gateways (Web plugins, APK), the RiverPay Mobile App provides the easiest way for merchants to accept crypto payments in their business.
With a simple downloading of the RiverPay app, registering for a merchant account, and putting the customer's amount to pay and your preferred cryptocurrency to receive—your customers will be able to send their crypto payments directly from their wallet to your RiverPay Mobile App.
This option is an efficient and effective solution to increase your sales, widen your target, and elevate your reputation as a company that accepts crypto payments.
Skyline Realty is now among the many other companies that trust Rivepay's potential and contribution to their company's growth and development.
As a luxury real estate provider, having access to a wealthy customer base who own cryptocurrencies will help Skyline Realty improve their reputation as a company that accepts cryptocurrency payments.
About Skyline Realty
Skyline Realty is an esteemed property management company in Dubai. They assist tenants to locate the best apartment to live or work in and aid in all the required paperwork. They offer a plethora of business spaces and luxury properties to their clients all around the UAE.
About RiverPay
RiverPay is the latest addition to Blockchain Commodities' decentralized projects. RiverPay offers an easy, fast, and secure crypto payment integration setup for businesses. Merchants can use this as the payment terminal for crypto users to pay for their purchased items.