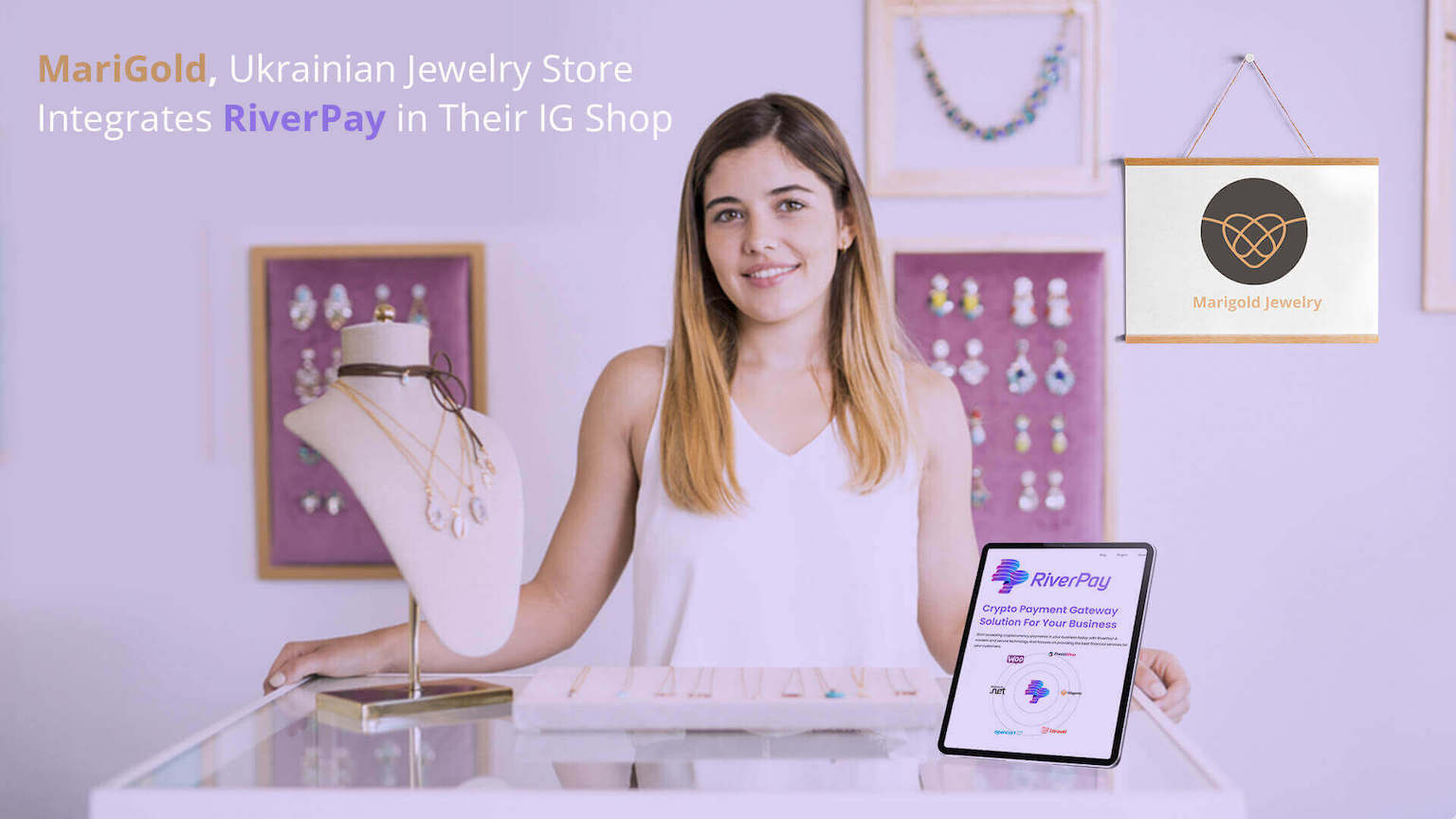 December 20, 2022
MariGold Chooses RiverPay as Their Crypto Payment Gateway Provider
In our previous article, we talked about how Ukraine is benefiting from the adoption of blockchain and cryptocurrencies in the retail sector. RiverPay accept crypto payments Ukraine has passed a law on virtual assets, and businesses are seeing the popularity and demand for cryptocurrencies.
We also discussed how the team at RiverPay can help you do the same—harness the power of cryptocurrencies by integrating a crypto payment gateway into your business. With that in mind, we will tell you a success story that might just make you want to accept crypto payments in your stores, today.
MariGold, Ukrainian Jewelry Store Chooses RiverPay in Their IG Shop
MariGold, a well-known jeweler based in Ukraine, has chosen RiverPay as its gateway provider for cryptocurrency payments.
Another crypto-friendly company, MariGold, now accepts cryptocurrency payments on its IG shop!
This is an amazing achievement for MariGold as it allows them to serve international customers without worrying about high transaction fees. By allowing your customers to pay with cryptocurrencies, they can now easily deliver the goods their customers require, wherever and whenever they need them.
MariGold says they chose RiverPay because we are customer-centric. As the first jewelry store in Ukraine to allow crypto payments, RiverPay is bridging MariGold to a wider market and customer base, increasing sales and profits.
Learn more: Here's how you use RiverPay in your IG Shop!
Accept Crypto Payments Through RiverPay
RiverPay's goal as a crypto payment gateway provider is to provide merchants with direct access to the crypto space. Through crypto payments, merchants will be able to access:
High-Spending Customer Base
No Setup Fees
One System For Various Crypto Wallets
Lowest Prices Available
No Chargeback
Zero Fraud Risk
Seeing this, MariGold commissioned us to integrate the RiverPay gateway into their IG shop to accumulate the above advantages.
Similarly, we also recently shared that Alva Nutri Inc., a leading provider of vitamins and nutritional supplements based in Montreal, Canada, has partnered with RiverPay.
This proves that merchants are finally recognizing the benefits of crypto payments. Therefore, RiverPay plays a key role in achieving this kind of feat.
Allow your customers to pay with crypto today! You can start your journey with RiverPay.