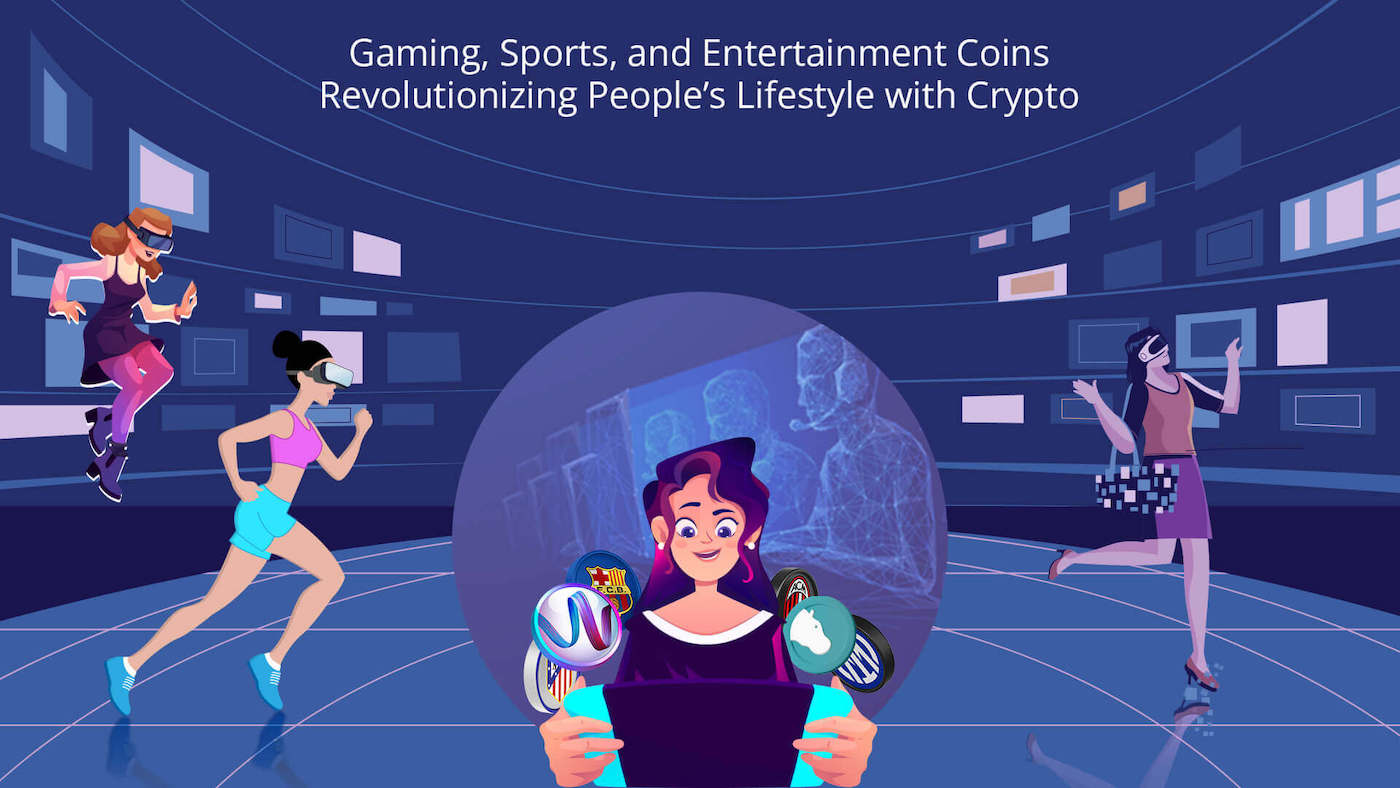 November 29, 2022
Gaming, Sports, and Entertainment Coins Revolutionizing People's Lifestyle with Crypto
As traders, one of the many reasons that lure them into trading is earning income. Trading, when done right and with caution, allows people to have a new source of profit.

Did you know that you can earn cryptocurrencies just by walking, exercising, or even playing and supporting games?
Today, a lot of brands offer their services with a twist—letting their customers and users earn passive income doing mundane activities!
Some examples are:
SweatCoin
SweatCoin is an app that rewards users with SweatCoins (SWC) for walking. Basically, for every 1,000 steps taken, users earn 0.95 SWC. These coins can be used for real-life rewards such as discounts, gift cards, and freebies in the in-app store, or even be converted to cash.
Lympo
Lympo is an app that provides simple tasks and challenges that will let you earn LYM tokens. The daily challenges vary from going for a morning walk, lunchtime walk, exercising, and some building healthy habits.
What's more, you can connect the Lympo app to your Apple Health, Samsung Health, or Google Fitness to sync your steps in the challenges.
Both applications, SweatCoin and Lympo promote a fun and exciting way to motivate people to get fit and stay healthy while earning passive income.
If we talk about global sports or fitness initiatives, moreover, Dubai has several events queued up dedicated to such a cause.
There is the ongoing Dubai 30×30 and upcoming Dubai Marathon 2023, etc. Aside from this, it is also no secret that Dubai is already paving its way to becoming a global crypto hub. So, being able to see these popular sports events be affiliated with brands from the crypto space is the next big marketing trend.
One of the biggest sports events happening right now is the FIFA World Cup 2022. Everyone's eyes are on the FIFA matches but let us not overlook the fact that a crypto company is its official sponsor.
From this, we can speculate that despite the bearish market that occurred these past months, the crypto space's presence in the global market is still significant.
There are what we call Fan Tokens from Socios.com, which provides benefits to the fans of sports or e-sports teams and other bands or groups. These fan tokens have signed 13 NFL teams at present, in addition to other teams already hosted in the app.
Revolutionizing People's Lifestyle with Crypto
Combining entertainment, sports, or games with cryptocurrencies is also one of the biggest innovations in the space.
With this, users can earn while they enjoy what they do, and at the same time, retain a healthy and fun lifestyle.
How can you earn these cryptocurrencies, you might be wondering.
As we have mentioned, you can use SweatCoin, Lympo, or Socios.com. There are also play-to-earn games or action-to-earn cryptocurrencies.
To maximize your cryptocurrencies, even more, you can swap them with stablecoins in our partner decentralized exchange, Riverex.
If you are a businessman/businesswoman, however, this might be the perfect time for you to start accepting crypto payments as there is a significant rise in its utilization, even in the real world.
This is where RiverPay comes in handy. Through this easy-to-use and simple integration, merchants will be able to start accepting crypto payments.
High-Spending Customer Base
One System For Different Crypto Wallets
No Setup Costs
Lowest Fees On The Market
No Chargeback
Zero Risk Of Fraud
To know more, please visit www.riverpay.io. If you are ready to get started in accepting crypto payments, please click here or contact RiverPay by sending an email to [email protected] or [email protected] or sending a direct message to our Whatsapp Customer Support number: +971 56 400 76 28