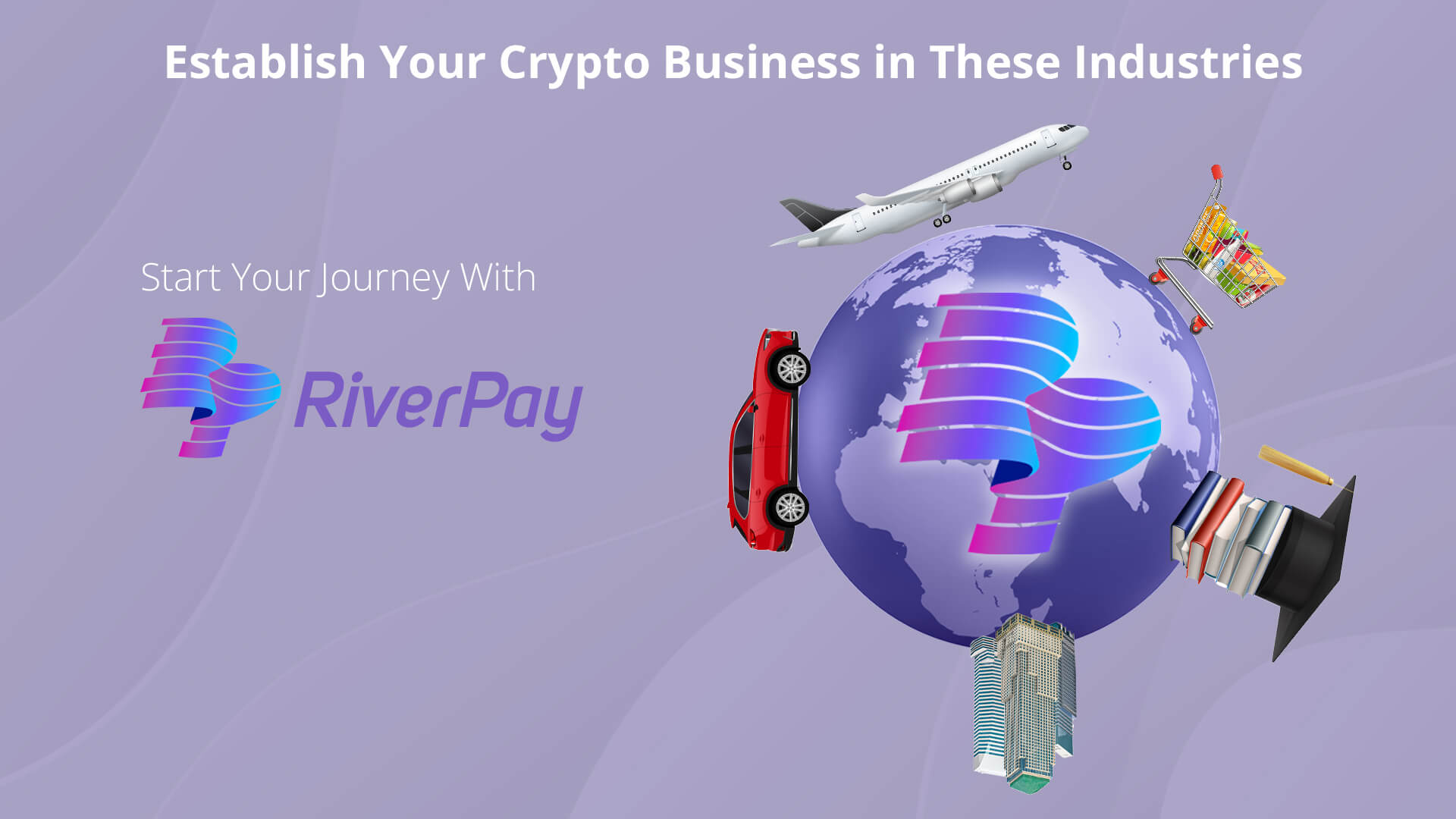 December 9, 2022
Establish Your Crypto Business in These Industries—Start Your Journey With RiverPay
As a business owner, expansion is perhaps one of your major goals of Crypto Business. Borderless market reach and new technology adoption as well might be in the pipeline.
If we are talking about adopting new innovations to expand your reach and increase your sales, we suggest you take crypto payment a try.
With the current growth of cryptocurrencies globally, some businesses are opting to accept crypto payments in their businesses today. They have already seen its potential and how bright its future has.
Several industries are already utilizing blockchain and crypto in their services—isn't it a ripe time to do the same?
If you are thinking of having a decentralized business or start accepting crypto payments, it's best to think ahead. It's crucial to know which industries already embrace this technology to adjust accordingly and to know where you can start your business.
Top Crypto-Friendly Industries That You Should Watch Out For
F&B Outlets
There are several hotels and restaurants that accept cryptocurrencies as payments in their outlets like Antika, B018, Bake N More, Cé La Vi, Lucia's, etc.
Tourism
Travel companies like Expedia have led the way for the tourism industry to adopt cryptocurrencies; allowing customers to pay with crypto for their hotel bookings.
Car & Yacht Rentals
For those who like traveling by car or having parties on yachts, there are some rental companies that allow people to charter a yacht or car with cryptocurrency. (e.g. Dubriani, OneClickDrive, etc.)
Car Repairs
Service My Car, is among the first tech-enabled car-servicing platform to accept crypto payments in the UAE.
Donations NGO
The Giving Block is the top crypto donation solution, allowing nonprofits and charities to fundraise crypto from crypto donors.
Education
Bitcoin for education? Why not! Some institutions accept crypto payments from students and parents, like the American University of Paraguay, Lucerne University of Applied Sciences (Switzerland), and FPT University of Vietnam, among many others.
Gaming Industry
Cryptocurrencies in the gaming industry have existed long before. There are P2E (Play-to-Earn) games and NFTs (non-fungible tokens), that users can own.
E-commerce
Big online shops like Shopify, Sapna, and eGifter, have adopted crypto payments for users to shop online using their digital assets.
Groceries Supermarket
Grocery stores worldwide have also adopted crypto adoption. USAFoods, Mannvend, Edmond Grocer, and Konzum are some of them.
Real Estate
In Dubai, you can purchase a property using cryptocurrency. Real estate companies like Guaranty Escrow, Idoneus, Lodgis, and Title Partners accept a wide variety of cryptocurrencies like BTC, ETH, etc.
Retail
Renowned brands like Gucci, Balenciaga, Alo Yoga, and Tag Heuer, are among the notable companies that have entered the crypto game recently as well.
Conclusion
It is important to get ahead of the competition as early as possible, to kickstart an advantageous crypto journey as a merchant.
To make it easier, use RiverPay!
RiverPay offers credible gateways which businesses can use to integrate crypto payments in their services (Plugins, APK, API). With RiverPay crypto payment integration, you will be exposed to:
High-Spending Customer Base
One System For Different Crypto Wallets
No Setup Costs
Lowest Fees On The Market
No Chargeback
Zero Risk Of Fraud