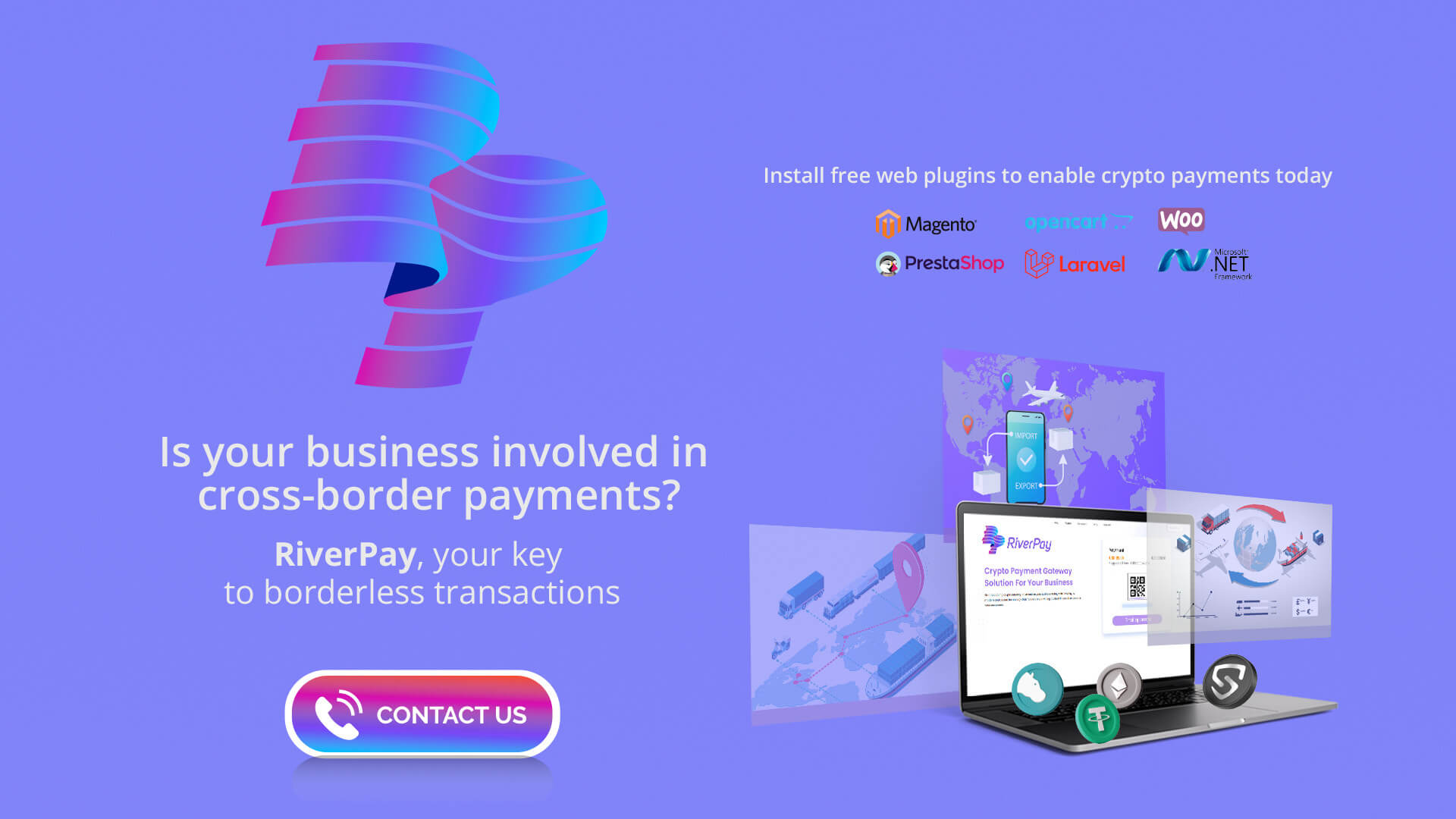 November 15, 2022
An Introduction to RiverPay—Your Reliable Crypto Payment Gateway
With the continuous growth and popularity of cryptocurrencies, several technologies have emerged to cater to their functionality. Your reliable crypto payment solutions by RiverPay.
Since its inception, the finance sector has tried its best to adapt and adopt the newly emerged technology—to make the crypto space safe for everyone.
Being built on blockchain, cryptocurrencies flaunt their top-notch security features and vast opportunity for growth and profit.
Alongside cryptocurrencies, crypto payment gateway providers have also surfaced, to make crypto payments easy and fast for users. Among the many crypto payment gateway providers today, there is one that stands out the most—RiverPay.
RiverPay empowers businesses to have access to today's global financial infrastructure. It is a crypto payment gateway perfect for start-ups and established businesses, allowing them to accept and process crypto payments in their online and physical stores. Through a single integration, merchants are allowed to increase their sales and expand their market through RiverPay, with built-in fraud prevention and authorization optimization.
RiverPay, which is developed by Blockchain Commodities, aims to be the most used and trusted crypto payment gateway for businesses globally. The payment gateway strives to target international markets such as Ukraine, Kazakhstan, India, and numerous African countries (CAR, SAR, Nigeria)—then continue to expand as it becomes well-known.
Furthermore, RiverPay provides ready solutions to merchants—Web Gateway, POS Gateway, and Mobile Gateway, to readily accept crypto payments in their business.
What are RiverPay Gateways?
There are three types of payment gateways that merchants can choose from RiverPay—Web Gateway, POS Gateway, and Mobile Gateway.
This gateway allows merchants to start accepting crypto payments in their online stores using plugins. This is perfect for those with e-commerce websites. More so, the plugins available in RiverPay are Microsoft.Net, Laravel, Opencart, WooCommerce, Magento, and PrestaShop.
River Point of Sale (POS) Gateway is the easiest way to start accepting cryptocurrencies for your physical store. RiverPay will provide merchants with an exclusive POS machine that is connected to their Merchant Panel and their crypto wallet for seamless transactions and management.
Mobile Gateway is like a replacement for the POS Gateway. If merchants choose to not use a POS machine in their store, they can just download the RiverPay app wherein they can accept crypto payments directly from their users.
The dashboard allows merchants to directly manage their control center to keep track of all their transactions in both their online and physical stores in the RiverPay platform.
Thinking about it, RiverPay is just like any other payment gateway present today. However, what makes it unique is that it is a crypto payment gateway—a kind of technology that is in demand right now. Many businesses would want to venture into the crypto space but they don't know how. Similarly, many crypto enthusiasts would like to use their cryptocurrencies in real-time, in their everyday life.
This is where RiverPay comes in handy. It bridges the crypto space to the real world. Through this easy-to-use and simple integration, merchants and individual users alike can maximize their use of cryptocurrencies.
1. High-Spending Customer Base
2. One System For Different
5. Lowest Fees On The Market
Get Started with RiverPay
For interested merchants who wish to start accepting crypto payments, they must fill out our registration form from the Blockchain Commodities website.
www.blockchaincmdt.io/riverpay-register/
To know more, please visit www.riverpay.io. If you are ready to get started in accepting crypto payments, contact RiverPay by sending an email to:
or sending a direct message to our Whatsapp Customer Support number: +971 56 400 7628 for crypto payment solutions by RiverPay.